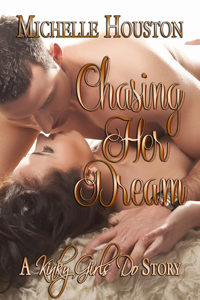 CHASING HER DREAM
Bad Girls Dream ... Kinky Girls Do!
Lydia had just one wish for her birthday--to be sexually dominated. Her boyfriend couldn't handle the job, and ended their relationship over it. Luckily for her, her best friend Shawn was more than willing and able to fulfill her fantasy. She just has to run first ... and trust him to chase her.
Word Count: Short Story
Sexuality: M/F
Smashwords * Amazon * B&N * KOBO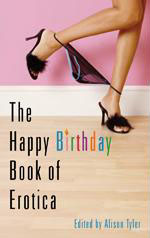 Content Warning: Spanking, D/s
CHASING HER DREAM is also available
in the Happy Birthday Book of Erotica
~ More info
This title was originally part of the KINKY GIRLS DO collection, that was released with Phaze. It has been modified/expanded.
* * *
Reviews:
Rated 5 Ribbons: (a book I would gush about to all my friends)
Chasing Her Dream was exquisite. I completely believe that these two were meant to fall for each other. They were exactly what the other person needed. This story without a doubt left me believing in love. ~ Romance Junkies
Michelle Houston does kink in a tasteful, sexy, playful way. ~ Love Bites
As with all Michelle's fiction the narrative is graphic without being gratuitous and sexy without being salacious. She creates rounded characters and masterfully takes us with them as they grow just a little bit more. ~ Erotica Revealed
These women are kinky and ready to discover a different side of loving. [...] Michelle Houston depicts these submissive women as independent, capable lovers who wish to explore another side of their sexuality. The dominants are real life men who prefer to be in control in the bedroom. The sex scenes are kinky and unique to each short story. ~ Romance Divas
All are well written and the characters are excellently portrayed. The women each come out strong and classy while still being true to themselves. The different styles of the relationships were able to maintain a strong tie to each other while maintaining differences. ~ Joyfully Reviewed
Michelle Houston has a very creative and imaginative voice when it comes to each different sexual scenario. ~ Erotic Romance Today
Michelle Houston writes sensational erotic fiction. ~ Erotica Revealed
Beneath [each woman's surface] lie the raging passions that only one man can truly bring out of them. For each, he is the only man who knows exactly what is right because he loves her enough to know just what she needs. ~ Romance At Heart
Michelle Houston gives us strong, independent women who want to be controlled in the bedroom. Each story includes a self- realization about who and what these women want to be. ~ Literary Nymphs
Ms. Houston does an excellent job in portraying her women. I was so worried when I started reading that the girls would come across cheap and easy, however, it was quite the opposite. These women were amazing, each of them going after exactly what they wanted in a relationship. Ms. Houston always manages to grab this reader and not let her go. ~ Romance Junkies