BUTTERFLY'S EFFECT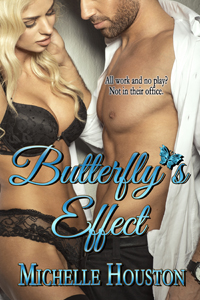 All work and no play? Not in their office.

Elaine's relationship with her office assistant went from a normal friendship to lovers, and they are both struggling to find the balance between their professional and personal lives together. Steve wants to take things public, but Elaine is worried about possible complications. So he decides to show her who's boss, with a little help from her submissive nature and a sexy new toy in Michelle Houston's Butterfly's Effect.
Word Count: Short Story
Reviews:
""Butterfly's Effect" was as hot as it was entertaining. The sexual tension rivaled the fear of discovery. The sex was hot... ~ Seriously Reviewed, rated: story - 7 and presentation - 9, giving this a total of 16.
""Butterfly's Effect" by Michelle Houston [...]was really enjoyable. Elaine is Steve's boss during the day, but she is his sub in private. Steve wants her to go public with their romance, and his methods for convincing her just sizzle. I liked this couple, and their story was well worth the read. [...] sexy." ~ Night Owl Erotica Reviews