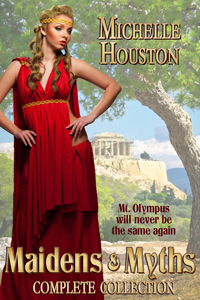 MAIDENS & MYTHS
PANDORA: Created by the Gods as punishment. It took a goddess to understand that she too was being punished, and a God to unleash the woman she was truly meant to be.
PERSEPHONE: Kidnapped by Hades, she knew that there was more to him than the Lord of the Underworld bit. Underneath his death lord exterior beat a kind and caring heart, as she knew all to well.
PSYCHE: Beloved of Cupid, she wasn't to ever know who her husband was. But she wasn't content to be kept in the dark forever.
CHARON: He had been alone for a long time; then one day a whirlwind of emotion named Ledia demanded that he take her across Styx to meet with Hades, so that she could bargain for her brother's soul. Charon never expected to fall for the demanding minx.
GALATEA. Loved by her creator, she was given life. Unfortunately, the personality had to be worked on a bit.
APHRODITE: It's quite simple exhausting to be the goddess of love. Everyone wants something from her, including the other deities. Yet Aphrodite knows that sometimes a Goddess just has to have some down time.
Word Count: Short stories and Novellettes
Reviews:
"Maidens and Myths is an anthology made up of 6 wonderfully written stories about some of the maidens told in the Olympian myths. Author, Michelle Houston, did a wonderful retelling of the myths by putting her own special sensual spin to them. These are sensual, romantic tales, tales most readers should and will love." ~ In The Library Reviews