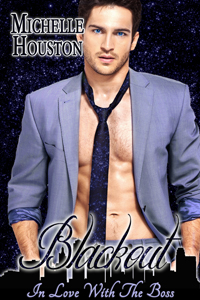 BLACKOUT
It's hell being in love with someone who doesn't know you're alive. Or rather, who doesn't see you as anything more than an employee. Just when he worked up the nerve to give his notice, a blackout trapped Alec with his boss, leaving him to explain to Nicholas why he has to leave a job he loves -- because he loves his boss more. He had it all worked out, except for Nicholas' reaction.
Word Count: Short Story
Sexuality: M/M
This is a re-release. Blackout was previously released with Noble Romance.
Reviews:
"Blackout plays on two well-explored topics, power outage and workplace romance. But Ms. Houston has done it with a fresh voice and a vividly described setting. I totally fell for Alec from the moment he's introduced. The longing he feels for his boss, Nicholas is emotional and deeply felt. I could feel the ache through the pages…and the fear. Ms. Houston has penned a titillating story that while short, delivers on emotion, characters, a plot and a resolution. And some hot male on male sex. ~ Seriously Reviewed

"Alec and Nick are in love with each other, and yet, they are afraid to say anything about their feelings. Until one night...when Mother Nature decides to intervene. ... I will admit it, I am not normally a fan of same-sex romance, mainly because of the fact that I seldom come across one that I feel is well written. I was extremely surprised when, not only did I enjoy 'Blackout', I found myself re-reading it twice more before I wrote this review. Alec's doubts, Nick's insecurities, their fantasies -- all came together to create a book that I will continue to enjoy for a long time to come. I loved the idea of using a city-wide heat wave, followed by a city-wide blackout, to get these two men into a situation where they are forced to confront, not only themselves, but the other person as well. 'Blackout' has earned a permanent place within my TBR mountain." ~ The Romance Studio, Rated

Alec is ready to give his boss, Nicholas, his resignation letter. He has been in love with Nicholas for 3 years and it's getting harder and harder to work for a man he knows he couldn't have. But when he does tell Nicholas, blackout happens, and well, things get interesting. It's a nice story about falling in love with your boss :). I kinda like the setting of the blackout and the talk of the stars (no, not Hollywood stars, REAL stars, constellation stuffs :p). ~ Ami, on Goodreads