HER MAJESTY'S MAIDEN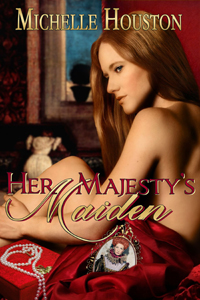 When Margaret Dudley joined the ranks of Queen Elizabeth I's gentlewomen, she never expected the whirlwind of changes that occurred in her life. Expecting to retreat to the background, to serve her sovereign with integrity and devotion, she never dreamed she'd find herself embroiled in a world of jealousy, lust, and betrayal. Or that she would experience a love that surpasses all.
Word Count: Novelette
* * *
Reviews:
"As a fan of Ms. Houston's works, I was astonished by this book. The story is so heartfelt, it practically comes alive before your eyes. Incredibly enough, I almost found myself searching on Google to see if this story had any basis in facts, for it was so real and so effortless to believe in...As Ms. Houston's first attempt at Historical Romance, I take my hat off and say "bravo" and urge all historical romances' fans out there to read this story. I will be eagerly waiting for her next book, hoping she will brave using her amazing skills at a longer and deeper piece." ~ The Romance Studio
"This short story slips into one of the cracks of history, and carves out a private space for itself, in the privacy of Elizabeth I's bedchamber...While the story is unashamedly and delightfully erotic, I was initially a little worried that it would delve further into the potential for power play between Margaret and the queen than I'd be comfortable with, but Houston avoids the obvious, and instead develops a very balanced, playful, and heartfelt relationship between the two women." ~ Rainbow Reviews
"What a nice little story this was! It's got all the elements to make it not only erotic, but fun to read. Like a typical fairytale story with greed, passion, and evil doings. Although it's a short story, it was written with no big gaping holes or areas left untouched with a nice flow in the story telling. ... Strictly from a visceral experience, I thought the characters came to life in a real way. ... The interactions between the two are sweet and hot at the same time. I'm rather fond of stories in which both parties feel an intense passion for each other and this comes through in this story. I can't help it, I'm a bit of a sucker for that type of love in books, one in which deep loyalty is part of the passion even if it borders on obsessive. ... Bottom line, I enjoyed this book. It left me feeling good and like I was fully entertained, which is what I want in a book." ~ Loving Venus, Loving Mars
""Her Majesty's Maiden" is sensual and loving story about Queen Elizabeth I and one of her gentlewomen...this is a romantic story that will melt your heart. Even though it is fiction, you seem to see another side of Queen Elizabeth's compassion and strength. Margaret's innocence and the Queen's compassion make this story heart-warming and passionate. Their relationship is one which dreams are made." ~ Nocturne Reviews, Rated 4 hoots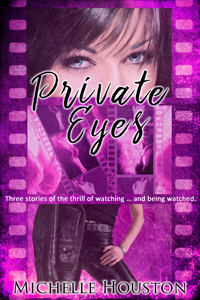 PRIVATE EYES
Exhibitionism and Voyeurism. The thrill of watching … and being watched. Enjoy them both in this collection by Michelle Houston.
The camera catches the inner soul to a person, catching the hidden emotions we are too afraid to let others see. Daria is one of those people, and just for a brief moment, she lets Lynsay see her how she really is in The Window of the Soul.
Tempted is the best way to describe Elaine's reaction to leather; especially when it was hugging the tight curves of a woman. She prowled the clubs, secretly thrilling in the view. What she hadn't expected was to run into one of her former students - a former student with an interesting ultimatum.
Stacie's lover Amy has arranged things so that she can indulge her exhibitionist streak in a safe environment - from behind the safety of peepshow booth windows. She gets to be center stage, putting on a show with her lover, without the risk of getting caught. It's an exhibitionist's dream, being watched by every Peeping Tom, Dick and Harriett.
The Window of the Soul Word Count: Short Story

Tempted Word Count: Nibble
Peeping Tom, Dick, and Harriett Word Count: Short Story
The Window of the Soul in
IRIDESCENCE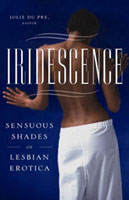 Buy from Amazon
Tempted in
L IS FOR LEATHER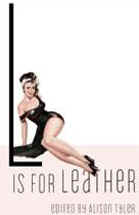 Buy from Amazon
Peeping Tom, Dick, and Harriett in
HIDE AND SEEK
* * *
Reviews:
"The three stories in this mini-anthology are all unabashedly sexual, dripping with raw need and a prowly female sexuality ... Side effects of all three stories in this tantalizing brief but satisfying anthology may include heavy breathing, shopping for new lingerie and the urge to explore new places to make love." ~ Rainbow Reviews
Athena of The Romance Studio gave my hot collection 5 Hearts! Whoohoo!



"This collection of short stories of exhibition and voyeurism is absurdly hot. What these stories do to your senses is beyond words...Overall, this collection is amazing, scorching, sizzling, and truly one that begs a cold shower after it's finished." ~ The Romance Studio
"All three stories were bring-me-a-fire-extinguisher hot. Each gave the reader enough of the character's background to make them and their situation real. Houston definitely draws the reader in from the first sentence, and she keeps them glued for the whole ride. I highly recommend this to anyone looking for a good, short, scorching F/F read." ~ HEA Reviews

"...Michelle defines each of the women beautifully, providing just enough background and context to create erotic and meaningful stories, rather than just individual scenes of sex. Crazy, wild, and undeniably hot, "Private Eyes" is definitely worth a read." ~ Siren Book Reviews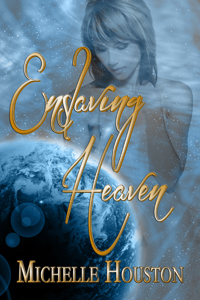 ENSLAVING HEAVEN
Lyssa is disgusted by the whole sale of slaves, but finds herself drawn to one of the ladies on the selling block. After impulsively purchasing her, Lyssa now has to decide what to do with Alya -- she can't just keep her. But the former prostitute, now slave, has other plans for her new mistress, including convincing her to let her stay.
As if Lyssa doesn't have enough to deal with, her pilot and best friend Nita is having problems adjusting to the newest member of their crew, and how it makes her feel. Nita had once found what Lyssa has, but lost it thanks to her. When an accident gives Nita a second chance with the woman she loves, she risks Lyssa's wrath to be with her.
Word Count: Novella
Reviews:
"This fast-paced plot includes several hot woman/woman sex scenes. Eventually, the dilemmas are resolved in a satisfying way and all the central characters have found happiness, at least until the next attack." ~ Rainbow Reviews
"Enslaving Heaven flows without too much detail clutter. Ms. Houston does a fine job of placing each character in the spotlight, while threading in a subtle subplot of intrigue. " ~ Joyfully Reviewed
"Michelle Houston writes very well. The action scenes are well done, and don't seem incidental to the plot as in some erotica. There is a plot, and it's not just there to further the sex. The sex is of the BDSM flavor, and all female/female. It's done quite well, and there is just the right amount of sex scenes." ~ Manic Readers
"Enslaving Heaven is a read that gives thought. .... Lyssa, Alya and Nita are engaging characters each fighting with a scar or blemish in their life. I found myself caring for each of them. Michelle Houston spins a tale at a good pace, where the reader can get a feel of the planet and the surroundings. She not only tells a story well, but one I enjoyed." ~ Coffee Time Romance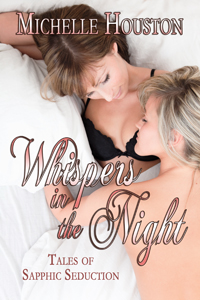 WHISPERS IN THE NIGHT
Tales of Sapphic Seduction
Thirteen erotic tales of hot and horny moments between two women as they explore soft perfumed flesh, taste of the peach of womanhood and savor the essence that leaks forth. BENEATH THE MISTLETOE is the story of a sexy woman who seduces her date at her office party. Enter a world of voyeurism in WINDOW DANCER as Amber watched her neighbor undress for bed. And many more … From slow, sensual lovemaking, to hot kinky sex, this collection has a bit of it all.
Word Count: Nibbles and Short stories
Reviews:
" ... blends the blatantly erotic and the subtly sensual in its collection of sizzling short stories. Passion and lust collide as Michelle Houston weaves a spell of soft kisses, touches, and more. ... Michelle Houston blends love, lust, and a ton of passion together to create a lovely tapestry of steamy proportions. Turn the fan up to high speed - ... a hot one!" ~ Fallen Angel Reviews
"All these stories were wonderfully written showing love, caring and intense heat in their content. This was something very new to me to read but found that loving whether it's two women, two men or a man and woman can be erotic, hot and very sensual to read about ... especially when love and caring are involved and the intense feelings are shown. Author Michelle Houston has the talented way of writing erotic stories that takes her readers to new heights no matter what the context is." ~ In The Library Romance
"Houston brings her characters to life so well you can close your eyes and can see the story play out before your eyes. I wasn't disappointed with any scenario she created and was reeling for more when I finished the book." ~ Literary Nymphs




We all have those moments in our lives we wish we could take back. Natasha has come to regret the choices she has made in her life, the biggest one being turning away from the one woman she had ever loved. But thanks to a late night visit from a succubus and a magical diary that found its way into her life, she can have a second chance.
If she's willing to take a leap of faith …
Word Count: Short story
* * *
Reviews:
"This is my very first F/F read and I have to say when push comes to shove this is about love, forgiveness and second chances, capturing the heart of the reader Michelle Houston has done a wonderful job of enticing the reader to open your heart to Natasha and her sorrow, her regret and her undying love for Lydia that will never be quenched." ~ Book Junkie,
Rated a Page Turner

"This was a nice, sweet short story. Natasha had lived her life for others. She did what was expected of her by getting a degree in Science and marrying Andrew. Although she tried to play the good wife, her marriage was doomed to fail eventually since she would always love her college sweetheart, Lydia. So many people do this on a daily basis. Marry who they are expected to be with and not necessarily what their heart tells them, because this is so common it made the story seem plausible. With a nice sweet story about true love this author did not go wrong and I give it four cherries." ~ Whipped Cream Reviews
As part of the former 413 Remembrance Lane anthology:
"The year is 2000. Natasha divorced her husband Andrew after almost thirty years together. She didn't feel right carrying on the lie of loving him when she is attracted to women. She is visited one night by a red-haired succubus. After pleasuring her to an extraordinary release, the succubus takes the locket Natasha found in the house. The succubus tells her that if she continues to live unhappily she will end up a succubus herself. What will Natasha write in the diary? Will Natasha be able to save her happiness?
Michelle Houston has written an awesome story of the difficulty of making decisions with your heart and mind. She shows the reader the life long heartache of making choices to appease others. In The Life Not Lived a single epiphany can change your life for the better." ~ Two Lips Reviews

""The Life Not Lived" is just a little different from the other stories contained in this anthology. I liked the way the story was written to emphasize past and present. It puts the spotlight on Natasha's decision. The story also makes me wonder what would happen if we could go back and change a decision made in the past." ~ Joyfully Reviewed
"THE LIFE NOT LIVED was phenomenal! I truly fell in love with Natasha. I understood her hesitation at ever telling anyone that she was a lesbian. Growing up in the times that she did, she would never have been accepted. However, like she discovered too late, marrying a man to hide your true self will never work. I wanted Natasha to find the diary, to make her wish and to find her lost love. I was really rooting for her throughout. She brought tears to my eyes on more than one occasion, and the provocative pleasure she discovers will make your teeth melt. Michelle Houston is a favorite author of mine and I am so happy to have been able to delve into another one of her masterpieces yet again!" ~ Romance Junkies, Rated 5 Ribbons!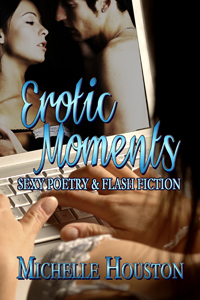 EROTIC MOMENTS:
Sexy Poetry and Flash Fiction
Long infatuated with poetry, and the ability to express in a much different format all of the yearning of the mind and body, Michelle Houston has combined the passionate free verse prose she has written with her erotic micro-stories called flash fiction, and a whimsical bit of fun called erotic haikus, into one collection.
Delve into Michelle's soul as she explores her sexuality and sensuality, with poems and flash fiction written to both men and to women. Allow yourself to be teased and seduced by her prose.
Word Count: Poetry and stories of 100 word or less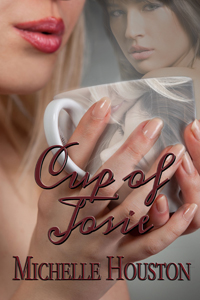 CUP OF JOSIE
An office romance brought about by a cup of coffee. Well, a cup of coffee, a rainstorm, and a flat tire.
*Also available as part of Just A Taste vol. 1*
Word Count: Nibble
Amazon * Smashwords * B&N * KOBO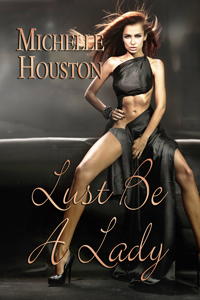 LUST BE A LADY
Amber is turned on by the feel of a warm hand slipping money into her garter or g-string. Her job as a stripper not only pays well, but fulfills a deep rooted fetish. While having men enjoy her dancing turned her on, it was the women paying her that provide the real thrill.
Word Count: Nibble
Amazon * Smashwords * B&N * KOBO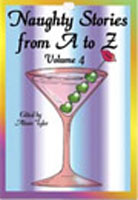 Also available in a print anthology:
NAUGHTY STORIES FROM A TO Z VOL.4
Buy from Amazon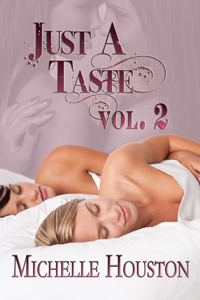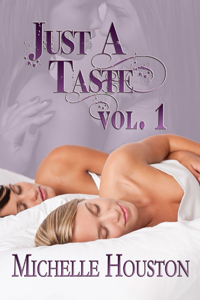 JUST A TASTE

Naughty Appetizers: Loose yourself in the fantasy of three tempting morsels of erotic delight.

Volume 1:
* A Cup of Josie: An office romance that started with a cup of coffee and a rainstorm.


* Inferno: There's something to be said for trying new things, especially when they're hot!




* Window of Opportunity: Amanda's at work, and her lover decides to swing by for lunch. But Amanda is unable to leave, so Nina stays to convince her to take a few moments to relax.

Word Count: Nibble

Volume 2:
* Shhhhh!: Studying for a biology exam in the library has never been this fun … especially with the possibility of being watched.
* Nice Kitty Kat: Katrina finds herself in the oddest of situations, thanks to her agreeing to help a friend without finding out the details first.
* Staying Cool: During her summer vacation, Emily comes to find that women are holding a special appeal for her.

Word Count: Nibble

* Note: Inferno, Window of Opportunity, Nice Kitty Kat, and Staying Cool were previously available as part of the Sapphic Visions collection.
Window of Opportunity is also available in a the print anthology:
DOWN AND DIRTY

Staying Cool is also available in a the print anthology:
HEAT WAVE

Nice Kitty Kat is also available in a the print anthology:
DOWN AND DIRTY